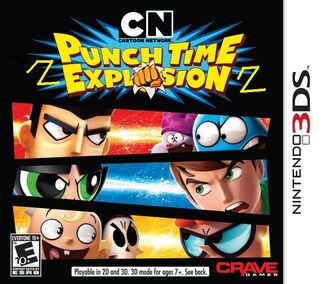 Cartoon Network: Punch Time Explosion TWO! is the sequel to CN: Punch Time Explosion & CN: Punch Time Explosion XL.
Playable Characters
Adventure Time
Finn & Jake
Ice King
Flame Princess
Regular Show
Mordecai
Rigby
Muscleman & Hi-5 Ghost
The Amazing World of Gumball
Gumball
Darwin
Bobert
Penny
Mrs. Simian
The Powerpuff Girls
Blossom
Bubbles
Buttercup
Mojo Jojo
Him
Dexter's Laboratory
Dexter
Mandark
Monkey
Major Glory
Chowder
Chowder & Kimchi
Mung Daal
The Marvelous Misadventures of Flapjack
Flapjack
Captain Knuckles
Ed, Edd n Eddy
Courage the Cowardly Dog
Foster's Home for Imaginary Friends
The Grim Adventures of Billy and Mandy
Grim
Billy & Mandy
Hoss Delgado
Nergal
Samurai Jack
Samurai Jack
Aku
Scotsman
Ben 10: Ultimate Alien
Ben Tennyson
Gwen Tennyson
Kevin Levin
Vilgax
Ben 10:
Hi Hi Puffy AmiYumi
Codename: Kids Next Door
Uncle Grandpa
Uncle Grandpa
Grandpa Uncle
Captain Planet and The Planeteers
Johnny Bravo
Other
Assists
Dee Dee
Lady Rainicorn
BMO
Lumpy Space Princess
Marceline
Earl of Lemongrab
Magic Man
Pops
Benson
Skips
Tinasaurous Rex
Masami
Carmen
Juke
Banana Joe
Princess Morbucks
Sedusa
Fuzzy Lumpkins
Valhallen
Krunk
Eduarto
Co Co
Cheese
Berry
Doctor Barber
Peppermint Larry & Candy Wife
Gazpacho
Shnitzel
Phanini
Fred Fredburger
Dracula
Mayor Mellow
Kate & Allie
Space Ghost
Kaz
Mr. Gus
Pizza Steve
Greg
Numbuh 2
Numbuh 4
Numbuh 5
Stickybeard
Eustace Bagge
Dr. Le Quack
Weremole
Rolf
Kanker Sisters
Kevin
Costumes
Finn & Jake: Fionna & Cake
Ice King: Ice Queen
Flame Princess: Flame Queen
Mordecai and Rigby: Future Mordecai and Rigby
Gumball: Wedding Dress
Darwin: Karate
Blossom: Brick
Bubbles: Boomer
Buttercup: Butch
Mojo Jojo: Street Clothes
Him: Yoga
Dexter: Robo Dexo Suit
Mandark: Future Evil Mandark
Monkey: Normal
Ami and Yumi: Evil Ami and Yumi
Uncle Grandpa: Aunt Grandma
BOSSES
Ice King - Adventure Time
Giant Bearded Face - Regular Show
Mrs. Simian - TAWOG
Mojo Jojo - The Powerpuff Girls
Mandark - Dexter's Lab
Boogeyman - Billy and Mandy
Cod Commando - Evil Con Carne
Aku - Samurai Jack
Grandpa Uncle - Uncle Grandpa
TV Remote - FINAL BOSS
Stages
Land of OOO
Tree Dome
Ice Kingdom
Candy Kingdom
Fire Kingdom
The Park
The House
Mordecai and Rigby's room
Elmore
Gumball's House
Gumball's Room
Elmore Junior High
Townsville
Mojo's Lair
Him World
Dexter's Lab
Mandark's Lab
Koosland
Muscular Arms
Foster's Home for Imaginary Friends
Bloo's Room
Mac's Appartment
Marzipan City
The Kitchen
Stormalong Harbor
The Candy Barrel
Inside Bubbie's Mouth
Uncle Grandpa's RV
Trivia
This game will not have these following shows: Teen Titans, Pokémon, and Johnny Test.