Cartoon Network: What's the Switch is a Action-Adventure Game for Wii, Wii U, DS, and Nintendo 3DS.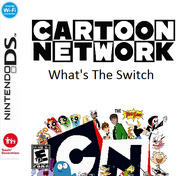 Plot
Finn and his Cartoon Network Characters arrive the R.E.D.s Lair to Stop Villains Vilgax, Mojo Jojo, and Father from stealing a Magical Idol.
Modes
Playable Characters
Finn
Jake
Ami
Yumi
Gumball
Darwin
Mordiecai
Rigby
Ben Tennyson
Gwen Tennyson
Kevin Levin
Chowder (with Kimchi)
Bubbles
Blossom
Buttercup
Flapjack
Captain K'Nuckles
Numbuh 1
Numbuh 2
Numbuh 3
Numbuh 4
Numbuh 5
Mac and Bloo
Dexter
Monkey
Deedee
Grim
Billy and Mandy
Samurai Jack
Johnny Bravo
Courage the Cowderley Dog
Ed, Edd, Eddy
Bosses
Ice King
Julie
Liam
Tina-Rex
Evil Rigby
Vilgax
Evil Chowder
Mojo Jojo
Kid Nickels
Father
Terrance
Mandark
Spider Queen
Aku
Evil Robot (Final)
Worlds
Finn's Treehouse
Topia Town
The Kitchen
Gumball's School
The Park
Bellwood
Marzipan City
Townsville
Stormalong Harbor
KND Treehouse
Foster's Full Mansion
Dexter's Larbrotory Core
Endsville
Dojo
Evil Robot Ship (Final)
Ad blocker interference detected!
Wikia is a free-to-use site that makes money from advertising. We have a modified experience for viewers using ad blockers

Wikia is not accessible if you've made further modifications. Remove the custom ad blocker rule(s) and the page will load as expected.