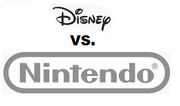 Disney vs. Nintendo
is the sequal to
Cartoon Network vs. Sega
. The game is created by Disney/Nintendo and the game is for the Commodore 64x, iOS, PC, Mac, Android and Linux. The game features many characters, stages, and power ups.
Story
TBA
Characters
Disney Universe
Nintendo Universe
Stages
Neverland
Mickey's Clubhouse
Doofenshmirtz Evil Incorparated
Donald's Boat
Hyrule Castle
Distant Planet
Onett
Freshwater High
Hokey Poke
Waluigi Pinball
Peach's Castle
Daisy's Castle
Mario Circut
25m
Captain Hook's Pirate Ship
dream land
star fox
Ad blocker interference detected!
Wikia is a free-to-use site that makes money from advertising. We have a modified experience for viewers using ad blockers

Wikia is not accessible if you've made further modifications. Remove the custom ad blocker rule(s) and the page will load as expected.