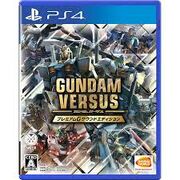 Gundam Versus Advance (ガンダムバーサスA) is a video game for the Arcade (2018) & PlayStation 4 (2020) Sixth Gundam Generation of Gundam VS series. Gundam Versus Advance (Standard Edition) & Gundam Versus Advance (Premium G Sound Edition).
Playable Units
Mobile Suit Gundam
The King of Fighters
Japan Team
Official Invitation Team
Sylvie Paula Paula
Kukri
Mian
South America Team
Nelson
Zarina
Bandeiras Hattori
Yagami Team
Kim Team
Mexico Team
Another World Team
Villains Team
China Team
K' Team
Ikari Team
South Town Team
Fatal Fury Team
Art of Fighting Women's Team
Fatal Fury Women's Team
Psycho Soldier Team
Art of Fighting Team
Rugal Team
Agent Team
Ash Team
Elisabeth Team
Rivals Team
Eiji Kisaragi
Hwa Jai
Raiden
Tekken
Zaku I Jack
Zaku II Jack
Zaku III Jack
Guncannon Jack
Guntank Jack
GM Jack
GM II Jack
GM III Jack
Gouf Jack
Gyan Jack
Dom Jack
Rick Dom Jack
Gaza Jack
Geara Doga Jack
Jagd Doga Jack
Geara Zulu Jack
Rozen Zulu Jack
ReZEL Jack
Jegan Jack
Hizack Jack
Dwadge Jack
Z'Gok Jack
Zogok Jack
Capule Jack
Rick Dias Jack
Zeta Gundam Jack
Messala Jack
ZZ Gundam Jack
Nu Gundam Jack
Unicorn Gundam Jack
Unicorn Gundam "Banshee" Jack
Sinanju Jack
Gundam F91 Jack
Victory 2 Gundam Jack
Driessen Jack
Gundam EZ8 Jack
Gundam Wing Zero Jack
Gundam X Jack
Gundam Double X Jack
Turn A Gundam Jack
Alie Strike Gundam Jack
Force Impulse Gundam Jack
Gundam Exia Jack
Gundam "Zephyranthes" Full Burnern Jack
Gundam "Physalis" Jack
Gundam "Dendrobium Stamen" Jack
Full Armor Gundam Jack
Gundam Ground Type Jack
Gundam AGE-1 Jack
Gundam AGE-2 Jack
Gundam AGE-3 Jack
Gundam AGE-FX Jack
G-Self Jack
00 Gundam Jack
00 Qan Jack
Gundam Barbatos Jack
Street Fighter
Virtua Fighter
Call of Duty
Ultraman
Ultraman (1966)
Zoffy
Ultraman Leo (1974)
Astra
Ultraman 80 (1980)
Ultraman Dyna (1997)
Ultraman Gaia (1998)
Ultraman Agul
Ultraman Cosmos(2001)
Ultraman Noa
Ultraman Max (2005)
Ultraman Xenon
Ultraman Mebius (2006)
Ultraman Hikari
Ultraman Zero (2009)
Ultraman Ginga (2013)
Ultraman Victory (2014)
Ultraman X (2015)
Ultraman Orb (2016)
Ultraman Geed (2017)
Kamen Rider
Super Sentai
Space Sheriffs
Space Sheriff Gavan
Space Sheriff Sharivan
Space Sheriff Shaider
Space Sheriff Gavan Type-G
Space Sheriff Estevan
Marvel
DC Universe
Metal Gear
Robot Romance Trilogy
Tom Clancy's Rainbow Six Siege
Battlefield
Guest
Santos (from Def Jam: Fight for NY)
Bosses
Mobile Suit Gundam
Mobile Suit Zeta Gundam
Mobile Suit Gundam: Char's Counterattack
Mobile Suit Gundam F91
Mobile Suit Victory Gundam
Mobile Fighter G Gundam
Turn A Gundam
* Accessible through the playable version's EX Mode.
Mobile Suit Gundam 0083: Stardust Memory
Mobile Suit Gundam: The 08th MS Team
The King of Fighters
Tekken
Devil Jin
Devil Kazuya X
Kazumi Mishima, then Devil Kazumi
Devil Asuka (Original Character)
NANCY-MI847J
Jun Kazama, then Unknown
Azazel
Street Fighter
Evil Ryu
Violet Ken
Shin Akuma
Venjix Chun-Li (Original Character)
Wild Guile (Original Character)
Virtua Fighter
Call of Duty
A.S.A.M.
CLAW
Hunter Tank
MQ-27 Dragonfire
Quad Tank
Goliath
Siege Bot
Warbird
Zombie Drop Pod
A.G.R.
Evil Price
Evil Ghost
Evil Soap
Evil Yuri
Evil Mason
Ultraman
Alien Zarab
Fake Ultraman
Imitation Ultraman
Robot Ultraseven
Chaosroid S
Chaosroid T
Chaosroid U
Gudon
Vakishim
Imitation Astra
Algyuros
Imitation Ultraman Agul
Meemos
Delusion Ultraseven
Imitation Ultraman Gaia
Dark Faust
Dark Mephisto
Dark Mephisto Zwei
Dark Zagi
Imitation Ultraman 80
Gelworm
Imitation Ultraman Cosmos
Chaos Ultraman
Fake Hunter Knight Tsurugi
Darramb
Hudra
Camearra
Ultraman Dark
Serven Dark
Mebius Killer
Victory Killer
Darklops Zero
Ultraman Belial
Robot Ultraman
Robot Zoffy
Robot Ultraman Jack
Ultraman Geist
Kamen Rider
Great Leader of Shocker
Shadow Moon
Zu-Gooma-Gu
Zu-Gumun-Ba
Me-Garima-Ba
N-Daguva-Zeba
Pantheras Luteus
Dispider
Crane Orphnoch
Centipede Orphnoch
Spider Undead
Joker Undead
Tsuchigumo
Aracnea Worm Rubor
Aracnea Worm Flavus
Aracnea Worm Nigritia
Super Sentai
Space Sheriffs
Double Monsters / Doublers
Marvel
Evil Iron-Man
Fake Captain America
Blue Hulk
DC Universe
Fake Superman
Venjix Batman
Cyper Wonder Woman
Metal Gear
Metal Gear REX (unmanned)
Metal Gear RAY (Unmanned)
Robot Romance Trilogy
Evil Combattller V
Fake Voltes V
Robot Daimos
Tom Clancy's Rainbow Six Siege
Battlefield
Fake Daniel
Devil Clayton
Razor Laszlo
Final Bosses
Dark Gundam (Original Character)
Orochi Gundam (The King of Fighters)
Mishima Gundam (Tekken)
Ryu Gundam (Street Fighter)
Dural Gundam (Virtua Fighter)
Makarov Gundam (Call of Duty)
Ultraman Gundam (Ultraman)
Kamen Rider Gundam (Kamen Rider)
Kidou Sentai Gundamger (Super Sentai)
Space Sheriff Gundam (Space Sheriffs)
Iron-Gundam (Marvel)
Superman-Gundam (DC Universe)
Metal Gear Gundam (Metal Gear)
Gundamler V (Robot Romance Trilogy)
Gundam Price (Tom Clancy's Rainbow Six Siege)
Daniel Gundam (Battlefield)
DLC Units
RX-78AN-01 Gundam AN-01 "Tristan"

Pilot: Quentin Fermo
Unit Cost: 500

AMX-011S Zaku III Custom

Pilot: Danton Hyleg
Unit Cost: 100
DLC Costumes
The King of Fighters Online
SNK High School Collection
Days of Memories
SNK Gals Island
Tekken Costumes
DLC Game Modes
DLC Characters
Kasumi (Dead or Alive)
World War I (Battlefield 1)
World War II (Call of Duty series)
Marco Rossi (Metal Slug)
Azuma (Raiden V)
Spirit of Dragon (Raiden V)
Moulin Rouge (Raiden V)
Trivia
Gundam Versus will be the second non-Dynasty Warriors game since Gundam Vs Zeta Gundam to be released in the West but the first mainline console game to do so in over a decade.