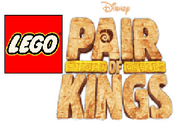 LEGO Pair of Kings
is a game by AdamGregory03 released for the Wii, PlayStation 3, Xbox 360, and Nintendo 3DS.
Gameplay
The gameplay is exactly like the other LEGO games in the line, with a good amount of platforming, exploration, replayability, and puzzles, not to mention areas that can only be achieved in Free Play mode as another character.
Story
The stories take place during the original episodes of the Disney XD show, Pair of Kings, from season 1. For a total list of them, see this page.
Playable Characters
As in most LEGO games, LEGO Pair of Kings allow the players to collect hidden Character Tokens that will make a new character able to be purchased in the shop, and playable in free play mode. For a list see this page.
Trivia
Even though there are no LEGO sets based off of Pair of Kings, the game was made.
Ad blocker interference detected!
Wikia is a free-to-use site that makes money from advertising. We have a modified experience for viewers using ad blockers

Wikia is not accessible if you've made further modifications. Remove the custom ad blocker rule(s) and the page will load as expected.