THIS IS AN FREE GAME ANY ONE COULD EDIT THIS AND ADD MORE STUFF : )Looney Tunes:An Other World is a third-person, action-adventure game deve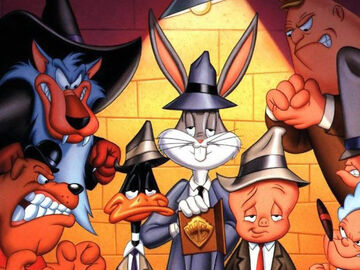 loped for the Wii U, Xbox 360, 3DS,and PS3. It's Mostly About an Other Looney Tunes in a Other Dimension want to take over the Real Looney Tunes and an Evil Villan That wants to Take over The Looney Tunes (Other Dimension Gossamer) and When Chuck Jones (as a Dog as a Looney Tune) tells The Looney Tunes about The Other Looney Tunes and they fight back. and The Game has Other Names like.... The Looney Tunes Show: The Video Game, Looney Tunes: The Other Dimension and many more, you also could play many of Looney Tunes Characters and unlock many ACME Guns and Costumes.
Characters and their Weapons
Characters
Bugs Bunny
Daffy Duck
Porky Pig
Marvin The Martain (only in Xbox 360 and Wii U)
Pete
Foghorn Leghorn (Only in PS3)
Barnyard Dawg (Only in PS3)
Chicken Hawk (Only in PS3)
Elmer Fudd
Wile E Coyote (Only in Xbox 360)
Road Runner
Make your Own Road Runner (Only in 3DS)
Lola Bunny (only in Xbox 360)
Tasmania Devil
The Three Bears (Only in 3DS and PS3)
Tweety (3DS)
Speedy (Wii)
Frog (Wii)
Pepe Le Pew (Wii and 3DS)
Trina Duck
Costumes
Baseball Bugs
Swim Trunks Bugs
Swim Trunks Daffy
Swim Trunks Foghorn (PS3)
Super Rabbit
Super Duck (Wii)
Super Coyote (Wii)
Girl Coyote (3DS)
Road Runner Girl (3DS)
Working Elmer Fudd
Super Lola
Super Trina (PS3)
Golden Bugs
Golden Daffy
Porky Cowboy (3DS)
Daffy Cowboy
Bugs as a Duck (3DS and Wii)
Daffy as a Rabbit (Wii and PS3)
Worlds
The Forest
The Other Dimension Forest
The Desert
The Other Dimension Destert
The Farm (3DS)
The Other Dimension Farm (3DS)
The Bestie Crusie
Other Dimension Crusie
Super World
Other Dimension Super World
Space
Other Dimension Space
Under Water
Other Dimension Water
Bosses
Evil Road Runner
Evil Marvin the Martian
Evil Pete
Evil Porky
Evil Daffy
Evil Bugs
Ad blocker interference detected!
Wikia is a free-to-use site that makes money from advertising. We have a modified experience for viewers using ad blockers

Wikia is not accessible if you've made further modifications. Remove the custom ad blocker rule(s) and the page will load as expected.