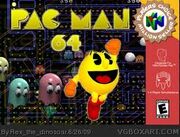 Pacman 64 is a 4P (4D?) game for the Nintendo 64.
Storyline
Pacman and his family are haveing a nice picnic on Pacland Park to eat some golden fruits until an evil "Pac" named Pacdevil takes his family and plain to suck out their power so he can be unstopable. So it is up to Pacman, Pooka, Yum-Yum and Orson to save them.
Music
Playable Characters
Pacman
Pooka
Yum-Yum
Orson
Pacpenguin (Unlockable)
Mrs. Pooka (Unlockable)
Light Spooky (Unlockable)
Pooka Jr. (Unlockable)
King Ghost (secret)
Nonplayable Characters
Mrs. Pacman
Pacman Jr.
Baby Pacman
Professor Pac
Inky
Blinky
Pinky
Clide
Sue
Tim
Funky
Chomp-Chomp
Powers
Power Pellet
Glass Pacman
Metal Pacman
Fast Pacman
Lightning Pacman
Pacman Super Jump
Silver Pacman
Golden Pacman (only in the last boss)
Green Flower
Enemies
Ghost
Robo Pacs
Pacbots
Fire Ghost
Ice Ghost
Cave Ghost
Chef Ghost
Goblins
Devil Ghost
8-bit Ghost
Bugs
Pacbears
Pacbear's cubs
Slime Ghost
Dark Ghost
Black Hole Ghost
Bats
Vampire Pacs
Werewolf Pacs
Pacghost
Zombie Pacs
Dark Pacpeople
Mini Ghost
Giant Ghost
Night Ghost
Clown Ghost
Joker Ghost
Diver Ghost
Zombie Ghost
Mini-Bosses
Mini Tocman
Big Snow Ghost
Big Fire Ghost
Shark Ghost
Roil Gard Ghost
Big Mole
Dark Pacman Jr.
Big Pacbear
Dark Pooka
Dark Mater (last mini-boss)
Hydra Pacman (BONUS MINI-BOSS!)
Worlds
Pacland
Snow Town
Fire Zone
Underwater
Castle of The Ghost
Underground
Dark Pacland
Forest
Copy of Pacdevil Castle
Pacdevil's Castle
Space (BONUS WORLD!)
Bosses
Pacdevil (1st battle)
Snow Pac of DOOM!
Fire Pachand
Whale Ghost
King of The Ghost
Pacdevil (2nd battle)
Dark Pacman
Tocman
FAKE Pacdevil
Pacdevil (last battle)
Pacdragon (BONUS BOSS!)
Gallery
Ad blocker interference detected!
Wikia is a free-to-use site that makes money from advertising. We have a modified experience for viewers using ad blockers

Wikia is not accessible if you've made further modifications. Remove the custom ad blocker rule(s) and the page will load as expected.