Phineas and Ferb: An Epic Adventure is a game for the Wii. The game Published and Developed by SEGA. This game is about Phineas and Ferb are sent to Parallel Universe of Danville by Darkacus (a Black Goo form of Eradicus), Where Yin and Yang (Jealous of Phineas and Ferb's Popularity) are Leaders, Flynn-Fletcher House become Yin and Yang's Castle and Phineas and Ferb's Popularity replace by Yin Yang Yo's Popularity. This Game is Based on Epic Mickey.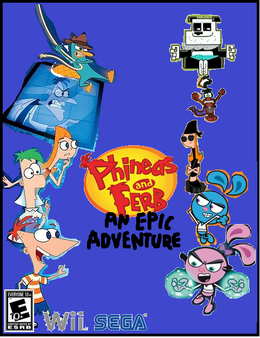 Announcement:
This Game was announced in 2009, Along with Phineas and Ferb 2: Ride Again (A Downloadable Game)
Story
It was a normal day on Danville and Phineas and Ferb were sitting under the tree. Phineas didn't know what to do today then a vortex came up and sucked Phineas and Ferb got sucked into it. They went to a Parallel Universe of Danville by Darkacus who is a Black Goo form of Eradicus. The universe is controlled by Yin and Yang who are jealous of Phineas and Ferb's popularity. The Flynn-Fletcher's house is Yin and Yang's castle. Now Phineas and Ferb must convert Alternate Danville to Phineas and Ferb Land instead of Yin and Yang Land, defeat Darkacus and Gain Yin and Yang's Trust
Trivia

Logo Variation:
The 2006-present SEGA Logo, in a Black and Blue Background, Instead of a Glow Linears, is replaced by Black Goo. and the Black Goo forms the SEGA Logo and the Black and Blue Background turn into a White Background, at the End, the SEGA Logo dissolved.
Reviews
Nintendo Power
This is the Wii game of the month
SEGA Station
Another amazing Phineas and Ferb game
Ad blocker interference detected!
Wikia is a free-to-use site that makes money from advertising. We have a modified experience for viewers using ad blockers

Wikia is not accessible if you've made further modifications. Remove the custom ad blocker rule(s) and the page will load as expected.