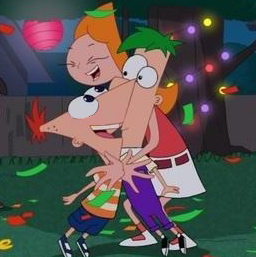 Phineas and Ferb: Let's Party! is a game for the SEGA Dreamcast. You can play as Phineas, Ferb, Candace, Isabella, Buford, Baljeet, Stacy, and Jenny. You play a whole bunch of mini games and compete with Spongebob Squarepants: Party at the Sea for the Nintendo 64. This game is the first installment in the Phineas and Ferb Party series.
Minigames
Squirt that Gelatin Monster
Backyard Beach Surfing Contest
Phineas' Superduper Fun Fun Maze
Escape from Mole-tropolis
Gameplay
In the game, when you first begin you get to choose what character you want to play. Then it shows all the minigames and when you finish a minigame you can choose another one. 
Trivia
This is the last Phineas and Ferb game that is on a SEGA Console.
Ad blocker interference detected!
Wikia is a free-to-use site that makes money from advertising. We have a modified experience for viewers using ad blockers

Wikia is not accessible if you've made further modifications. Remove the custom ad blocker rule(s) and the page will load as expected.