Regular Show: The Power is a game for the SEGA Genesis and NES. Moredeicai and Rigby need a raise so they steal a keyboard and need to save Skips from the moon.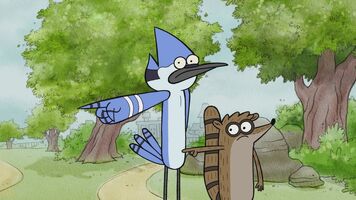 Plot
Skips is sent to the moon and then Moredicai and Rigby need to go to the moon and help find Skips.
Level 1:The Park
Playable character:Both
Level 2:Pop's house
Playable characters:Rigby
Level 3 Boss:Giant Monster
Playable characters:Both
About this game
This game is limited it cost $0.25 at the arcade. But is on the Xbox 360 and Xbox Portable for download and on the Sega.
Ad blocker interference detected!
Wikia is a free-to-use site that makes money from advertising. We have a modified experience for viewers using ad blockers

Wikia is not accessible if you've made further modifications. Remove the custom ad blocker rule(s) and the page will load as expected.