Regular Show The Video Game 5: Decode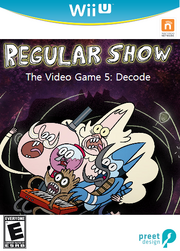 is the 3D action adventure and train-and-battle game and direct sequel of it's 
predecessor
. The game story was Mordecai and the gangs discovered the parasitic nanobug called Nanos. It caused to create a disaster and making data hosts into prehistoric-like monsters called Nanosaurs. They takes a newly built device called Accelenano to capturing Nanos and making host the data. It was released in November 4 2014.
Gameplay
This gameplay has changed to train-and-battle gameplay.
Synopsis
During the time after Firework Run and Sandwhich of Death, however, the mysterious being appeared to find the legendary six strange orbs called Nanos Orbs shatters around the world. It also the Nanos Orbs hosting the data to creates a Nanos. Meanwhile at the Park, Mordecai watch the every commericals until the news about the Nanos Orbs creating the atomic waves into data hosts and transforming prehistoric creatures called Nanosaurs. Mordecai shocked the Nanosaurs invades the Park and attacked the cities.
Characters
Main Playables
Mordecai (main playable in the begin the story)
Rigby
Pops
Skips
Benson
Muscle Man
High Five Ghost
Margret
Death
Gary
Thomas
Nanosaurs
These Nanosaurs were mutant-like prehistoric creatures born by the speciemen fossils and host computer data then start to mutate.
Crunchosaurus
Torikaratops
Main Bosses
Shadow of Door

Archouraptosaurus
Flightocaptheras
Dr. Wackymad
Minor Bosses
Computer Brain
Laser Mingo
Guardian Angel
Zones
The Park
Ground Ruins
Assume Lake
Radical Highway
Wasteland
Blizzard Fountain of the Dragons
Lava Cave
Triva
It's second predecessor's features Lunar Fruit and Teeth Powered was no longer in the game.
This Nanosaurs gameplay was similar to Battle of the Giants series.
Ad blocker interference detected!
Wikia is a free-to-use site that makes money from advertising. We have a modified experience for viewers using ad blockers

Wikia is not accessible if you've made further modifications. Remove the custom ad blocker rule(s) and the page will load as expected.