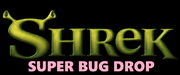 Shrek Super Bug Drop is an action puzzle game which is similar to Puyo Puyo.
Story
In a land far, far away, Prince Charming just hatched a plot to finally get rid of the ogres. He gathered all of the meanest villains in the land and decides to host a Bug Drop Contest to see who is the best Bug Drop Player is. In story, you play as Shrek, Donkey or Puss in Boot as you battle many characters along the way. Pit your wits against rival characters and use your skills to master the game by filling your opponent's playing board with Garbage Bugs before he can out-master you!
Easy Course
To get yourself adjusted to the game, Donkey has volunteered as a playable character. His AI as a COM character, serves as one of the weakest. As Donkey, you have to fight against three enemies: Gingy, Red Riding Hood, and Pinocchio. In the end, he was told by Fiona to warn Shrek.
Normal Course
In this 13-stage mode, you play as Shrek. His COM AI is rather strong. As Shrek, you have to fight Donkey, Cyclops, Rumpelstiltskin, Ugly Stepsister, Big Bad Wolf, Monsieur Hood, Lil' Witch, Captain Hook, Thelonious, Artie, Fiona (Ogre), Puss in Boots and Prince Charming.
In his ending, he sees Fiona in her human form which surprises him.
Hard Course
In this 8-stage mode, you play as Puss in Boots. As a COM, His AI is almost equal to Shrek's strength. As Puss, you have to fight the latter 8 stages along Shrek's quest, starting with Monsieur Hood, and ending with Prince Charming. Instead of facing himself at Stage 7, he faces Shrek.
In his ending, Shrek and the gang come to see Puss who succeeded in beating Prince Charming in a Bug Drop match. The rest of the gang decide to give Charming a beating while Shrek tells him how's his story ends.
If the player beats all 8 opponents without continuation in this mode, Puss will face Princess Fiona, in her human form, as a secret character fight.
Ad blocker interference detected!
Wikia is a free-to-use site that makes money from advertising. We have a modified experience for viewers using ad blockers

Wikia is not accessible if you've made further modifications. Remove the custom ad blocker rule(s) and the page will load as expected.