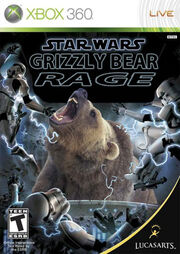 mad scientist gabe newell has been pestering the jedi people for years, but now he has gone too far! he merged his dna with a bear and became the elder grizzly. now its up to luke and his buddies to save the universe!
The game is rated M: too DEEP for you. (for mature games such as myself)
"thats not moon!"
~ luke skylard
The game begins when gaben finds a mystic hat that grants him the powers of time/space control, using gravitons as a source. Rather than work on Episode 3 he decides to head off on an adventure of love, betrayal, and hats. gaben must use the power of the hats and his GRIZZLY RAGE FORM to extract as much money from the jedi as he sets up a cash shop in the acadamy.
The game takes a huge twist when gaben finds a small indie dev company working on a portal device when he finds about this he searches for them and then use the hat restriction power and steal their idea instead of making episode 3.
G-man is seen in this game piloting Jehuty from the zone of the enders series, all this while wearing a mexican sombrero.
AND THEN GABE SAYS LUKE I AM FATEHR AND THEN LUKE SAYS NO I AM FATEHR AND THAN LUKE WAS FATHER
Ad blocker interference detected!
Wikia is a free-to-use site that makes money from advertising. We have a modified experience for viewers using ad blockers

Wikia is not accessible if you've made further modifications. Remove the custom ad blocker rule(s) and the page will load as expected.