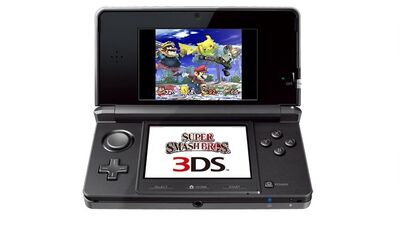 Not to be confused with the actual Super Smash Bros. for 3DS video game.
Super Smash Bros. 3DS is a game for the Nintendo 3DS. It's the eighth installment of the Super Smash Bros. series. This is the second game in the Super Smash Bros. to be handheld and first one to be just for a handheld console
Characters
Mario
Peach
Toad
Bowser
Rosalina
Yoshi
Wario
Donkey Kong
Diddy Kong
Link
Zelda
Samus
Pit
Marth
Lucina
Kirby
Meta Knight
King Dedede
Fox
Krystal
Pikachu
Pokemon Trainer
Zoroark
Captain Falcon
Lucas
Villager
WiI Fit Trainer
Olimar
Shulk
Chorus Men
Ice Climbers
Mega Man
Sonic
Mii
Unlockable Characters
Ness
Ike
Luigi
Falco
Ashley
Ganondorf
King K Rool
Starfy
Lucario
Mr. Game & Watch
Waddle Dee
Little Mac
Pacman
Isaac
Roy
Duck Hunt
Vaati
Inkling
Mewtwo
Palutena
Ridley
Solid Snake
R.O.B
Toon Link
Jigglypuff
Bowser Jr.
Wolf
Rayman
Assist Trophies
Waluigi
Kat & Ana
Ghirahim
Midna
Skull Kid
Tingle
Mona
Lubba
Knuckle Joe
K.K Slider
Monita
Reviews
Nintendo Power
Epic game to play for the 3DS!



Ad blocker interference detected!
Wikia is a free-to-use site that makes money from advertising. We have a modified experience for viewers using ad blockers

Wikia is not accessible if you've made further modifications. Remove the custom ad blocker rule(s) and the page will load as expected.