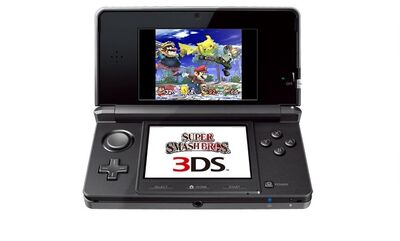 Not to be confused with the actual Super Smash Bros. for 3DS video game.
Super Smash Bros. 3DS is a game for the Nintendo 3DS. It's the eighth installment of the Super Smash Bros. series. This is the second game in the Super Smash Bros. to be handheld and first one to be just for a handheld console
Characters
Mario
Luigi
Bowser
Peach
Yoshi
Wario
Rosalina
Bowser Jr.
Olimar
Pikachu
Pichu
Fox
Falco
Ness
Lucas
Samus
Mr. Game and Watch
Pit
Zero Suit Samus
Link
Zelda
Ganondorf
Ike
Shadow
Donkey Kong
Diddy Kong
Kirby
King Dedede
Geno
Meta Knight
Sonic
Captain Falcon
Mii
Sonic
Pacman
Unlockable Characters
Jigglypuff
Lucario
Marth
Issac
R.O.B.
Mona
Megaman
Toad
Birdo
Diddy Kong
Krystal
Stages
Bold=Unlockable
The Doomship (Super Mario Bros. 3)
Mario Circut
Starship Mario
Shadow Moses Island
Nintendo 3DS
Assist Trophies
Items
Smash Ball
Assist Trophy
Pokeball
Crate
Rolling Crate
Barrel
Capsule
Party Ball
Blast box
Sandbag
Food
Maxim Tomatoe
Heart Container
Dragoon Parts
Super Mushroom
Poison Mushroom
Warp Star
Starman
Metalbox
Bunny Hood
Superspicy Curry
Timer
Lightning
Beam Sword
Home-run Bat
Fan
Lips stick
Star Rod
Hammer
Golden Hammer
Super Scope
Ray Gun
Fire Flower
Ice Flower
Cracker Launcher
Bob-ombs
Motion Sensor Bomb
Gooey Bomb
Smart Bomb
Deku Nut
Freezie
Pitfall
Hothead
Soccerball
Football
Mr. Saturn
Green Shell
Banana Peel
Bumper
Spring
Urina
Team Healer
Franklin Badge
Screw Attack
CD
Trophy
Sticker
Key
1-up Mushroom
Trophy Base
Coins and Bills
Propeller Mushroom
Candy
Hookshot
Super Shroom Shake
Pink Beam Sword
Candy
Springo Candy
Vampire Candy
Bitsize Candy
Bloway Candy
Weeglee Candy
Bowlo Candy
Thwomp Candy
Bullet Candy
Bowser Candy
Cashzap Candy 
Reviews
Nintendo Power
Epic game to play for the 3DS!



Ad blocker interference detected!
Wikia is a free-to-use site that makes money from advertising. We have a modified experience for viewers using ad blockers

Wikia is not accessible if you've made further modifications. Remove the custom ad blocker rule(s) and the page will load as expected.