Super Smash Bros. Unleashed
Talk

0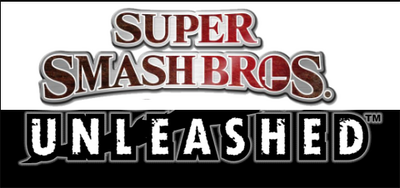 Super Smash Bros. Unleashed is the fifth installment of the Super Smash Bros. series. The game is for the new Nintendo NX. The game has the most characters in the Super Smash Bros. series. The game is up to 4 and 8 players and when you choose your character the announcer will say your character's name. It released in North America, Japan, Europe, South Korea, Oceania, and for the first time, China.
List of Playable Characters
Mario Universe
Mario
Luigi
Peach
Rosalina & Luma
Bowser
Bowser Jr.
Donkey Kong Universe
Donkey Kong
Diddy Kong
Dixie Kong
King K. Rool
Legend of Zelda Universe
Link
Zelda
Sheik
Lana
Toon Link
Ganondorf
Metroid Universe
Samus
Zero Suit Samus
Sylux 
Yoshi Universe
Kirby Universe
Kirby
Meta Knight
Bandana Waddle Dee
King DeDeDe
Star Fox Universe
Pikachu
Jigglypuff
Charizard
Greninja
Lucario
Mewtwo
F-Zero Universe
Earthbound/Mother Universe
WarioWare Universe
Kid Icarus Universe
Pit
Palutena
Magnus
Medusa
Fire Emblem Universe
Marth
Ike
Roy
Micaiah
Robin
Corrin
Pikmin Universe
Splatoon Universe
Xenoblade Chronicles Universe
Wii Fit Universe
Punch-Out!! Universe
Duck Hunt Universe
Animal Crossing Universe
Game & Watch Universe
NES Universe
Sonic the Hedgehog Universe
Mega Man Universe
Pac-Man Universe
Rayman Universe
Crash Bandicoot Universe
Bomberman Universe
Street Fighter Universe
Bayonetta Universe
Final Fantasy Universe
List of Bosses
Petey Piranha
Octobot King
Ridley
Porky
Magolor
Rayqueza
Metal Face
Hades
Tiki Tong (Donkey Kong Country Returns)
Tabuu 2.0 (Final Boss)
List of Enemies
TBA...
List of Items
Container Items
Barrels
Crates
Sandbags
Eggs
Party Balls
Capsules
Rolling Crates
Battering Items
Hammer
Golden Hammer
Beam Swords
Home Run Bats
Fans
Star Rods
Lip's Sticks
Shooting Items
Ray Guns
Fire Flowers
Star Rods
Super Scopes
Projectile Items
Green Shells
Poke Balls
Bomb-ombs
Gooey Bombs
Pitfalls
Soccerballs
Banana Peels
Bumpers
Smoke Balls
Spings
Hot Heads
Blast Boxes
Performance Items
Starman
Dragoon
Metal Boxes
Screw Attacks
Bunny Hoods
Lightning Bolts
Warp Stars
Smash Balls
Timers
Recovery Items
Food
Maxim Tomatoes
Team Healers
Heart Containers
List of Stages
Bold= Unlockable
Mushroom Kingdom
New Pork City
Yoshi's Island
Hyrule Castle
Dream Land
Final Destination
Battlefield
Princess Peach's Castle
Jungle Japes
Pokemon Stadium
Poke Floats
Green Hill Zone
Mario Circuit
Luigi's Mansion
Mushrommy Kingdom
Smashville
WarioWare Inc.
Pirate Ship
Bowser's Castle
Rainbow Road
PictoChat
Delfino Plaza
Lylat Cruise
Rainbow Cruise
Brinstar
Corneria
Onett
Mario Bros.
Spear Pillar
Flat Zone 2
75m
Green Greens
Big Blue
Halberd
Bridge of Eldin
Mario Circut